September 23, 2010 to October 30, 2010
Espace Kettaneh Kunigk, Gefinor, Hamra, Beirut, Lebanon
« Luxury and Degradation », is an exhibition inspired from a pop vision of art and proposes a range of cynical, funny, caricaturized , obsessive, and even derisory ideas related to the stormy and ungrateful world of fashion and luxury labels that misleads to over consumption.
14 artists has been picked up for their representation of « the top notch of luxury »  in our contemporary world where men cannot bear any longer the idea of putting limits to this over boarding phenomena.
From Jeff Koons to Urs Luthi and Sylvie Fleury or even Nabil Nahas, the works of the 14 artists exposed in the gallery translate these above notions, trough quite unusual and unexpected medias and material!
A contemporary art exhibition which pushes the elitist concept of luxury to its climax. Relevant yet unusual, this "premiere" won't keep you indifferent and will provide you definitely with "food for thought" …
Artists
Lamia Maria Abillama
Shiva Ahmadi
Sarah Charlesworth
Niki De Saint Phalle
Sylvie Fleury
Frances Goodman
Jeff Koons
Claude et Francois Xavier Lalanne
Marylin Minter
Takashi Murakami
Xavier Noiret Thome
Vincent Olinet
Image Gallery
Installation Shot
Luxury and Degradation
Collective Exhibition
2010


Installation Shot
Luxury and Degradation
Collective Exhibition
2010


Installation Shot
Luxury and Degradation
Collective Exhibition
2010


Installation Shot
Luxury and Degradation
Collective Exhibition
2010


Installation Shot
Luxury and Degradation
Collective Exhibition
2010


Installation Shot
Luxury and Degradation
Collective Exhibition
2010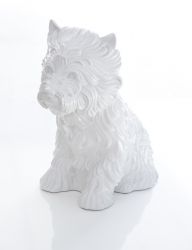 Installation Shot
Luxury and Degradation
Collective Exhibition
2010


Subscribe to our newsletter for ongoing updates on our artists and exhibitions