From March 31, 2016 to April 3, 2016
Paris, France
Art Paris 2016, Booth View
SOURCED FROM MOTHER EARTH, is a project by Syrian artist FADI YAZIGI that includes his latest bronze sculptures and reliefs on clay.
By using materials from nature, the artist creates very diverse and powerful works that reflect the personal tragedies and stories he's witnessing in Syria, where he still resides. "Clay and bronze; both have the ability to converge. They're similar to life in its solidity and fragility, continuity and [lack thereof], flesh and shadow, life and death." The artist says.
The "diary" tablets, as Yazigi sees his reliefs, convey movement, emotion and a powerful vision of humanity. They're intimate serene scenes between families and friends. Amidst them, is the monster that has devoured everything.
"The Ball", is his latest bronze sculpture and first time on display. It evokes time, the life cycle, or Mother Earth. Yet it resembles a mine from World War II that may explode at any moment. "The creatures around it are us, with our dreams, tragedies and destinies. With the little hope we have for some light and love", Yazigi says, "Mother Earth energizes me and constantly reminds me that I still have a purpose in this life."
ABOUT THE ARTIST
FADI YAZIGI was born in Syria. He studied at the Faculty of Fine Arts in Damascus, obtaining a BFA in Sculpture in 1988.
Yazigi is still residing in Damascus and working as a full time artist. He produces a range of works from painting to sculpture to reliefs that all mirror each other in terms of subject matter and, for the most part, focus on everyday life in Syria.
His art is housed in numerous public collections including; The Delfina Foundation (London), A.M. Qattan Foundation (London) and Abu Dhabi Tourism & Culture Authority (UAE), as well as private collections throughout the Middle East, Europe, Asia and the USA. In 2007, Yazigi was the Delfina Foundation artist in-residence, Middle East representative (London); his lecture at The National Gallery, Poussin's Sacraments – Rites of Passage and Continuing Creativity, was delivered in the same year.
Selected exhibitions and events; Yallay Gallery (HK), Galerie Tanit (Beirut), Les Galeries de Verre (Bordeaux), Darat Al-Funun (Kuwait), Institut des Cultures d'Islam (Paris), Meem Gallery (Dubai), Athr Gallery (Jeddah), The Mosaic Rooms (London), Ayyam Gallery (Damascus), Art Palm-Beach, Art Dubai and Art Paris.
SOLO SHOW ON BUS EXPO
From 17th March to 5th April the Air France airport busses will feature temporary exhibitions as part of the Bus Expo project. The aim is to make contemporary art accessible to the widest possible audience. Bus Expo and Art Paris Art Fair have joined forces to display the work of five artists selected from among the solo shows at the fair. Fadi Yazigi is one of the five chosen artists.
Artists
Artfair
Image Gallery
Fadi Yazigi
The Ball
2015
Bronze
Around: 95 cm x 95 cm
Edition of 3
Fadi Yazigi
Untitled
2015
Clay
25 cm x 25 cm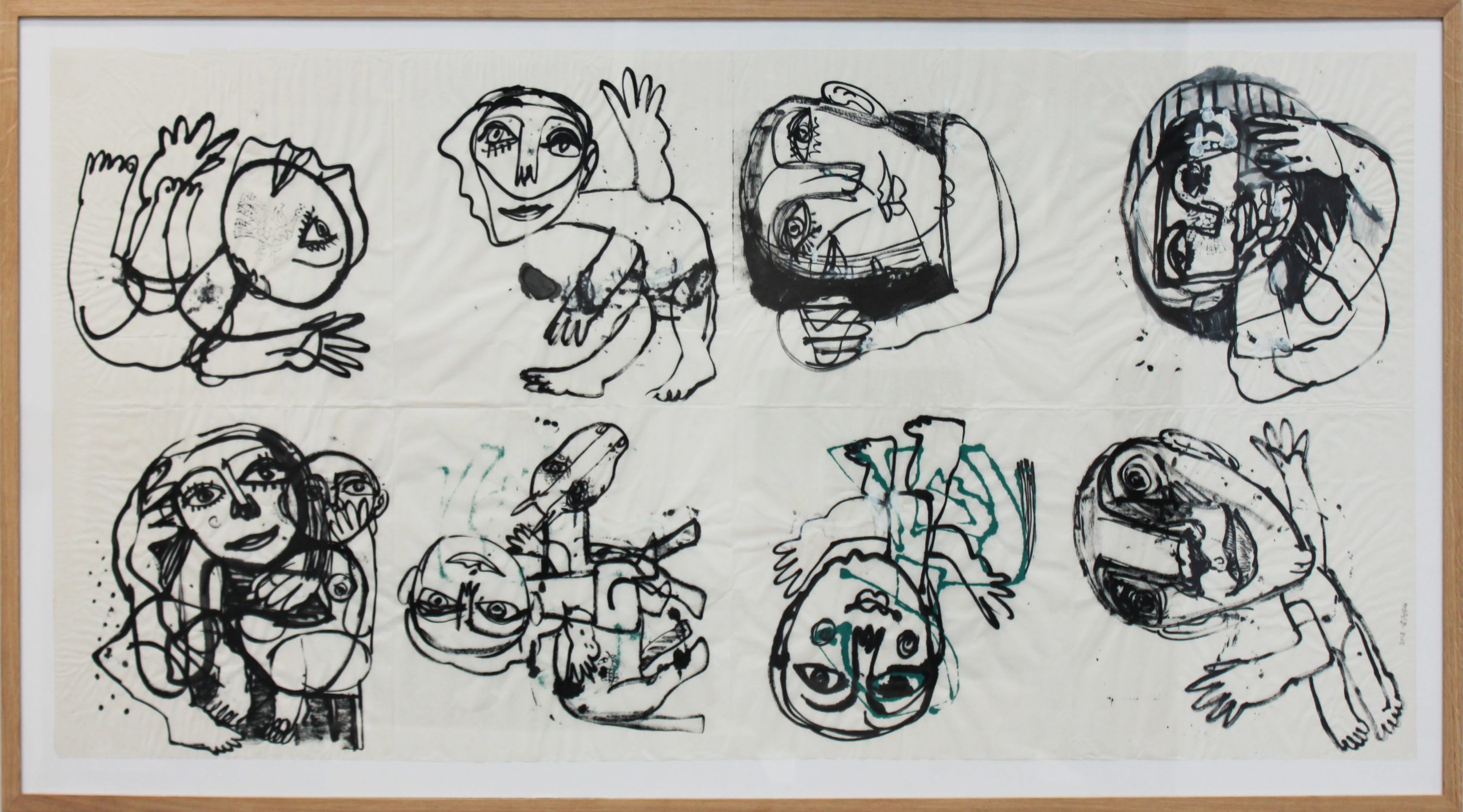 Fadi Yazigi
Untitled
2014
Mixed Media on Rice Paper
70 cm x 140 cm

Subscribe to our newsletter for ongoing updates on our artists and exhibitions